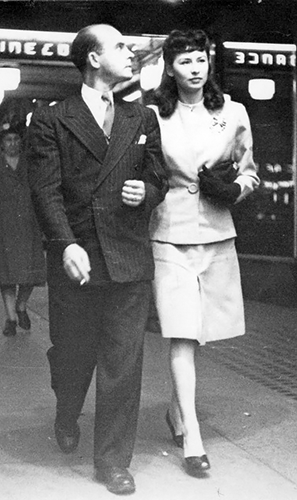 Meet Ruby and Ralph, my parents, the 2 people who provided the environment that allowed me to tap into and express my creativity!
Ralph provided the security, stability, and the physical environment that allowed me to have the freedom and the means to explore and express myself. Note the dashing suit! My Dad grew up in the 30's and 40's and kept that style and mentality up to the end of his life. 
Ruby, my beautiful glamorous talented fashionista Mother taught me how to draw, paint, design, and sew. She was a Hollywood Mother, enrolling me in all sorts of classes like ballet, Spanish dancing, synchronized swimming, modelling, and figure skating. These skills landed me my first job as a dancer on a local teen television series.  She also helped launch my career as a Visual Merchandiser by getting me my first display job and encouraging me to move to Montreal to get formal training.
When I was student at UBC my Mom convinced my Dad to let me drop out and enrol in The Vancouver School of Art instead. ( later the name changed to Emily Carr University ). It was at Art School that I met many talented creatives - both students and instructors. My sculpture teacher Bill Koochin inspired me to find my niche which was to create smaller pieces of sculpture and to move into creating wearable jewellery art. Koochin's best friend Bill Reid was a major inspiration being both a talented sculptor and jewellery designer.
Thanks to friends I met at Emily Carr I worked in the film industry as a sculptor until a hand injury abruptly ended my career and I was driven to find other ways to express myself creatively. I returned again to Emily Carr and focussed on getting my degree in Visual Arts as well as retraining using digital tools to design and draw. I'm still at Emily Carr teaching in Continuing Studies and am dedicated to inspiring others to express their creativity!
Throughout my journey of exploring different ways to express myself creatively I have met, been inspired and helped by many different people. I would like to share my gratitude by introducing talented creatives to you by featuring them in upcoming blog posts! Artists, Designers, Poets, Musicians, et al...